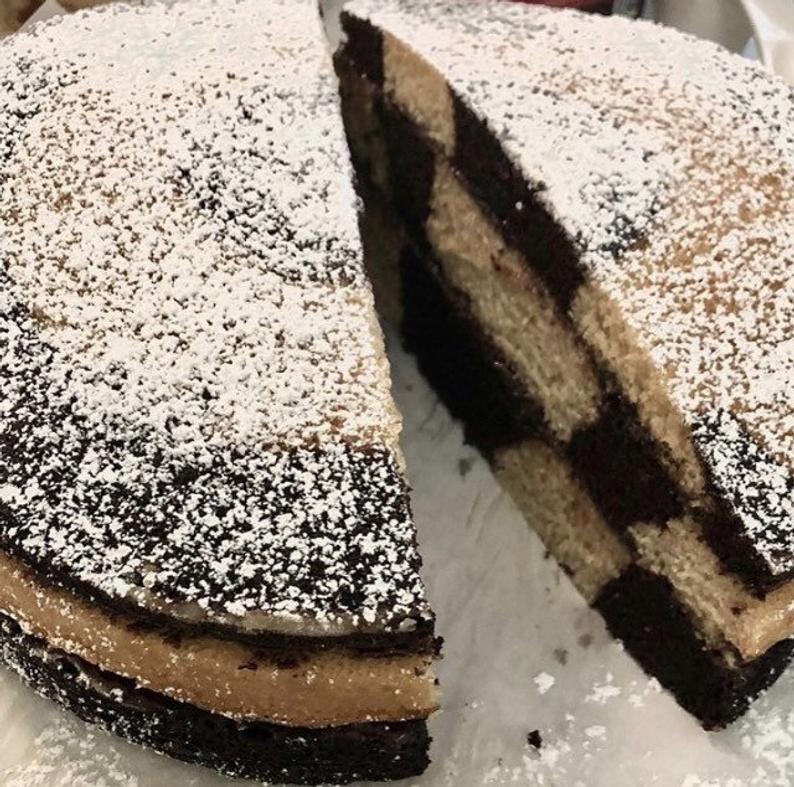 I'm proud of this checkerboard cake I made, but what does it have to do with social distancing? Well, I'm about to tell you.

Several months ago, a customer contacted me with a custom order for a birthday cake for his girlfriend, who lived apart in another city from him. He said she had dietary restrictions and he needed a cake that had no sugar, milk, butter, or eggs, and was part almond and part chocolate. Then once the cake was made he wanted me to cut it in half, ship one half to him, and the other half to her. He said they would both enjoy the cake at the same time to celebrate her birthday.

What a creative social distancing, celebration idea, and what a tall order for me to fill! So, my solution was to come up with this checkerboard cake, which turned out to be a quite a hit for them both.
Another social distancing approach I witnessed was at the assisted living facility where I worked. The facility had floor-to-ceiling windows in one of its wings. Family would visit by sitting on one side of the window and the resident would sit on the other side. They would both use their cellphones to speak to one another, so no shouting was necessary.

It really touched me one day to see a granddaughter visiting her grandmother with her infant daughter in a pram. She took her daughter out of the pram and held her up to the window for her grandmother to see—one of the most touching things I've personally witnessed throughout the COVID-19 pandemic to date.