Artist captures incredible images at Houston rodeo—there's just one catch
Despite plaudits from the likes of Bun B, Shauna Jones' pictures of suavely-dressed Black women and men enjoying the rodeo are creating controversy online.
Ariana Garcia, Chron
March 9, 2023Updated: March 18, 2023 11:22 p.m.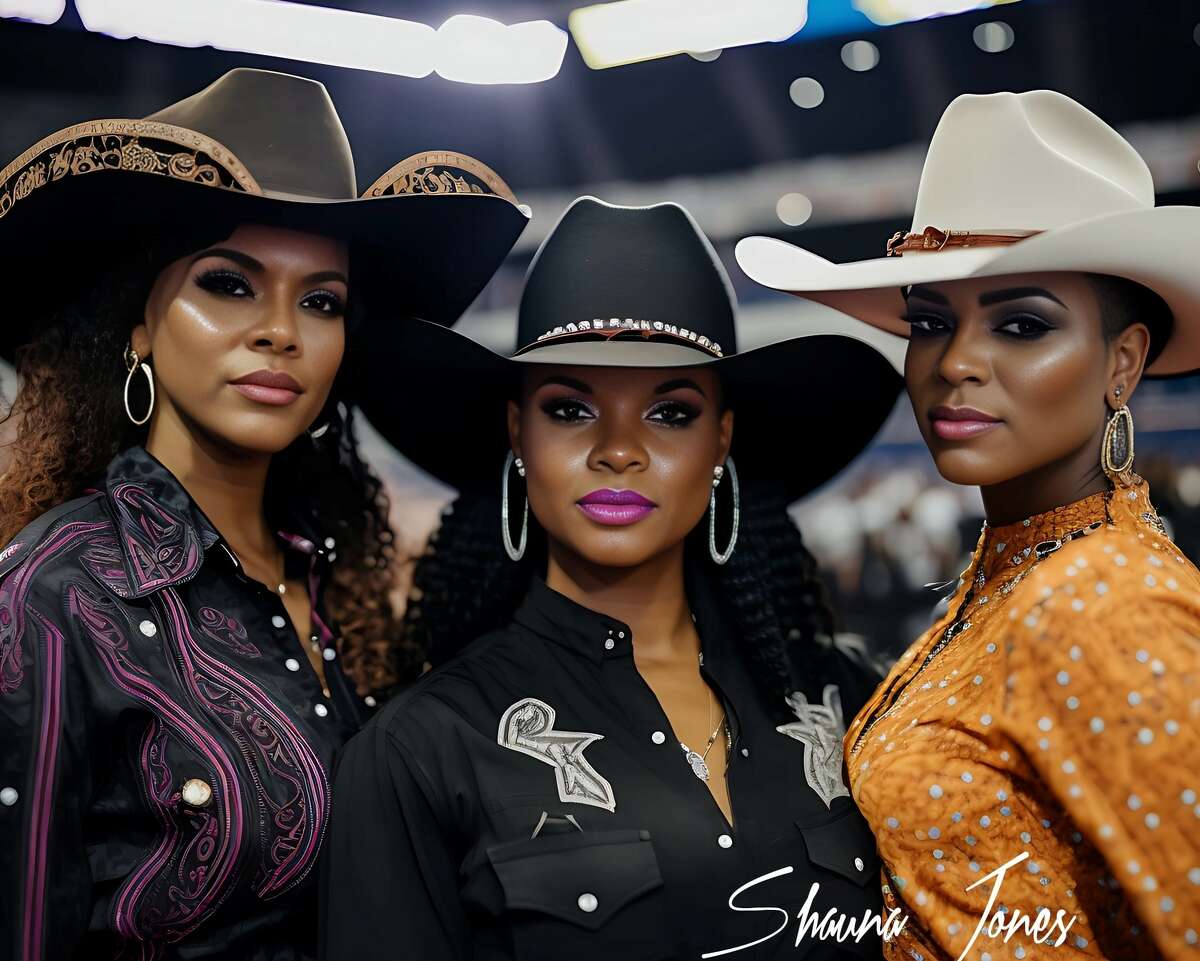 A series of images depicting beautiful, suavely-dressed Black women and men enjoying the 2023 Houston Livestock Show and Rodeo caught the eye of tens of thousands on social media this week. However, there's just one catch: None of the people featured in the photos are real.
The visuals, which were shared more than 25,000 times on Facebook, were created by Washington, D.C.-based artist Shauna Jones, who employed artificial intelligence technology to craft the artworks. Without naming the tool she used (she didn't want to give away her "secret sauce"), Jones explained that she simply fed text into an online AI art generator to produce the works in minutes, though also noting that curating a cohesive collection could take hours or days.
"Basically you're a literary artist because it's the story that you tell that creates the image," Jones said. "It's a prompt that you're telling the computer, like 'a light-skinned Black woman with a black dress on looking happy.' You're telling a story and creating incredible detail to get to the output."
Read More
AI art comes to the Houston Rodeo
While attending the Houston rodeo for the first time on Black Heritage Day with her friend, Jones said she was amazed by the beauty and style of those attending and sought to immortalize what she witnessed through her art. But not all were impressed, many calling her realistic images misleading. "My work is inspired by what I saw and that's the controversy. The people might see these images really believe this event and then go and be disappointed," she said. "But my work is what we can be, an artistic expression of what I see, or what I think we can strive to be."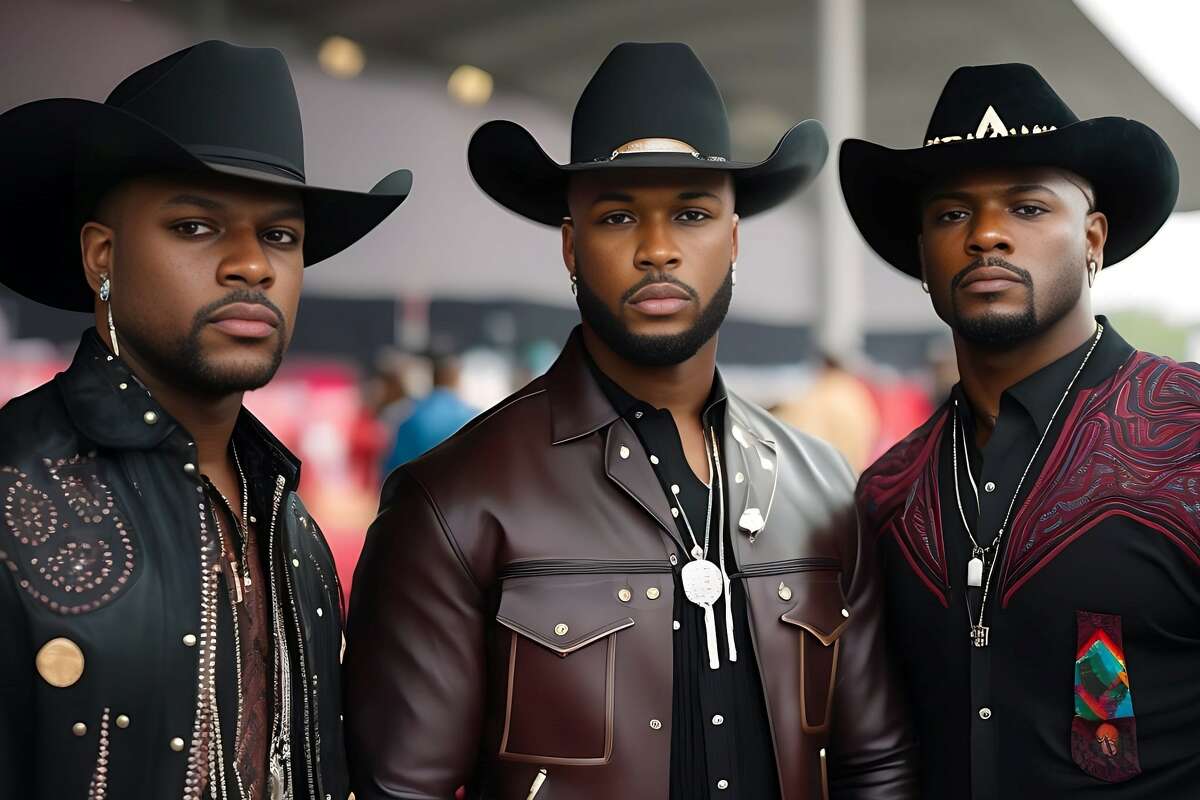 Earlier this year, Jones also went viral after creating a vibrant series inspired by her Delta Sigma Theta sorority. A 43-year-old commercial real estate banker, Jones first discovered AI art back in November after coming across AI-generated Black Panther prequel concept art created by Shaun Harrison.
"I'm not into sci-fi so I started to think about my own lane and started doing pieces that celebrate Black people, and particularly Black women," Jones said. For as long as Jones can remember, she was drawn to telling stories through images, previously working as a photojournalist for her campus newspaper while attending Florida A&M University.
Today, Jones has turned her hobby of creating AI art into a side hustle, making the bulk of her money from selling her artwork. "I see so much opportunity to make this a profession but it's a passion," she said. "I wouldn't even minimize it as a hobby at this point because I think that I'm a trailblazer."
AI art went mainstream at the end of 2022 with apps like Lensa—which allowed users to create avatars that looked like they were produced by a digital artists by simply uploading their photos. Despite its popularity, there's a growing movement against the art form from digital artists who have raised concerns about copyright issues due to the technology scraping the web for work of other artists to create the images.
"There are definitely ethical issues and that will be fought, whether it's IP who owns the image, whether it's the computer, whether it's the creator… I want to leave those debates for the people who are skilled legally," Jones said. "I'm here to add diversity to AI work. I have a different mission and purpose. I'm here to create and inspire."
Sandra Zalman, an associate professor of art history at the University of Houston, says AI is also controversial for removing the hand of the artist in image making. "In that way, we can think of our reactions against AI art as similar to the reactions in the 1830s against early photography," Zalman wrote in an email. "I don't think it's a question of ethics necessarily; perhaps we can think about if this technology creates a compelling visual image, what makes it compelling (or not) and why."
'The greatest AI I've ever seen'
Many don't consider AI images art at all, as evidenced by some of the comments Jones received in response to her rodeo series. Some poked fun at the unusual fingers on the models, a tell-tale sign that an artwork is AI-generated. "AI does not do well with hands because we've been using facial recognition technology for taking selfies for years so the computers can recognize a human face really well," Jones said. "But the hands—you're talking about five fingers shaped differently, different people, and they just do not have enough [information] to perfect that yet."
The sheer amount of critiques Jones received prompted her to respond online. "It's brand new technology. I'm an early adopter and people are being extremely critical of things they don't understand," she said. Some argued that Jones was misleading them, even though she disclosed that the photos were AI-generated. Others questioned why Jones didn't post photos of actual people at the event. "I'm thinking, 'Do you go to a painter and ask him where is the photograph?' So why are people coming to me, who identifies as an AI artist, asking for a photograph of the real event?"
But not all the feedback has been negative. On Tuesday, Houston's Bun B gave his blessing on his Instagram stories, calling Jones' work "the greatest AI I've ever seen." Jones said: "It kind of invalidated the criticism because if he himself is in love with it, then who else do I need? Other than maybe Beyoncé?"
Continuing to add to her Houston Rodeo series, Jones released new images Wednesday of plus-sized Black women at the event to celebrate body positivity and "turn Black Heritage Day into Black Heritage Week." She's also building a community with other Black creatives on Facebook in a group called Black Lens for those interested in learning how to create and share AI art. "This is technology and we can adopt it or get left behind," Jones said. "I think particularly for Black people, we often get left behind because we're afraid of things. I think this is the new Internet. AI is going to grow. It is going to be next big boom and there's opportunity for those who are not afraid of it."