This is a great article found on the King Arthur Flour website. By the way, King Arthur Flours are my favorite commercial flours to bake with. I use their flours in almost all of my baked goods. I find their flours to be of very high quality. This article gives a good analysis of the pros and cons of baking with sugar substitutes in various baked goods. To counteract the cons I have learned to mix my sugar substitutes to give more favorable and consistent outcomes. For instance, Splenda which I rarely use for baking dry baked goods such as cookies, always needs to be mixed with an equal amount of sugar or another sugar substitute. Most sugar substitutes benefit from mixing when preparing dry baked goods.
Sugar alternatives for baking
Fewer calories, but do they yield great results?
AUTHORPJ Hamel
RECIPES IN THIS POSTQuick and Easy Fudge BrowniesChocolate Chip CookiesLemon Bliss CakeFresh Apple Cinnamon Scones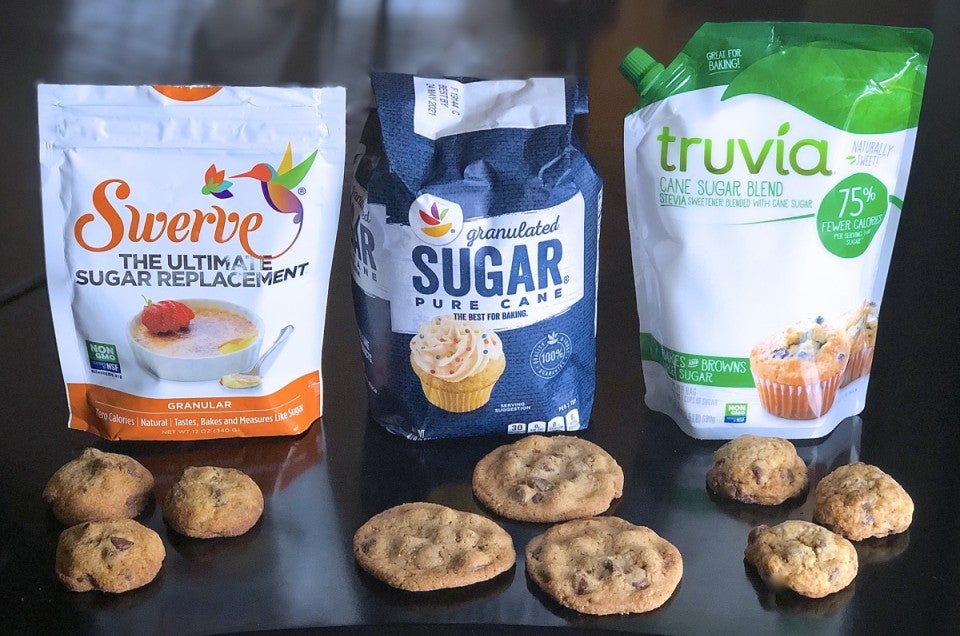 Editor's note: Good news! Since publishing this post, we've introduced our Baking Sugar Alternative, a 1-to-1 substitute for granulated sugar designed specifically for baking success.
Have you ever wished there was such a thing as zero-calorie baking? I sure have. What if that piece of pie, cupcake, or blueberry muffin added no calories at all to your daily diet?
OK, pipe dream. But what if you could at least reduce the calorie count of the sweetener you use in your frosted layer cakes, chocolate chip cookies, fudge brownies … and more? I'd be all for that — wouldn't you?
I've been spending extra time perusing the sugar shelves in the baking aisle of my local supermarket lately. After all, sugar can add a ton of calories to your cookies and cakes; are there any good alternatives?
Can you easily reduce the calories in your baked treats just by using a natural sugar replacement?
Understand I'm not talking alternative sweeteners here.* Honey, agave, maple syrup, molasses, turbinado, take your pick; all are sugars and have similar (if not exactly the same) calorie counts. I'm also not referring to baking sugars based on artificial sweeteners like sucralose (e.g., Splenda), aspartame, and saccharin.
*Interested in baking with honey and other liquid alternatives? See this post: Baking with liquid sweeteners.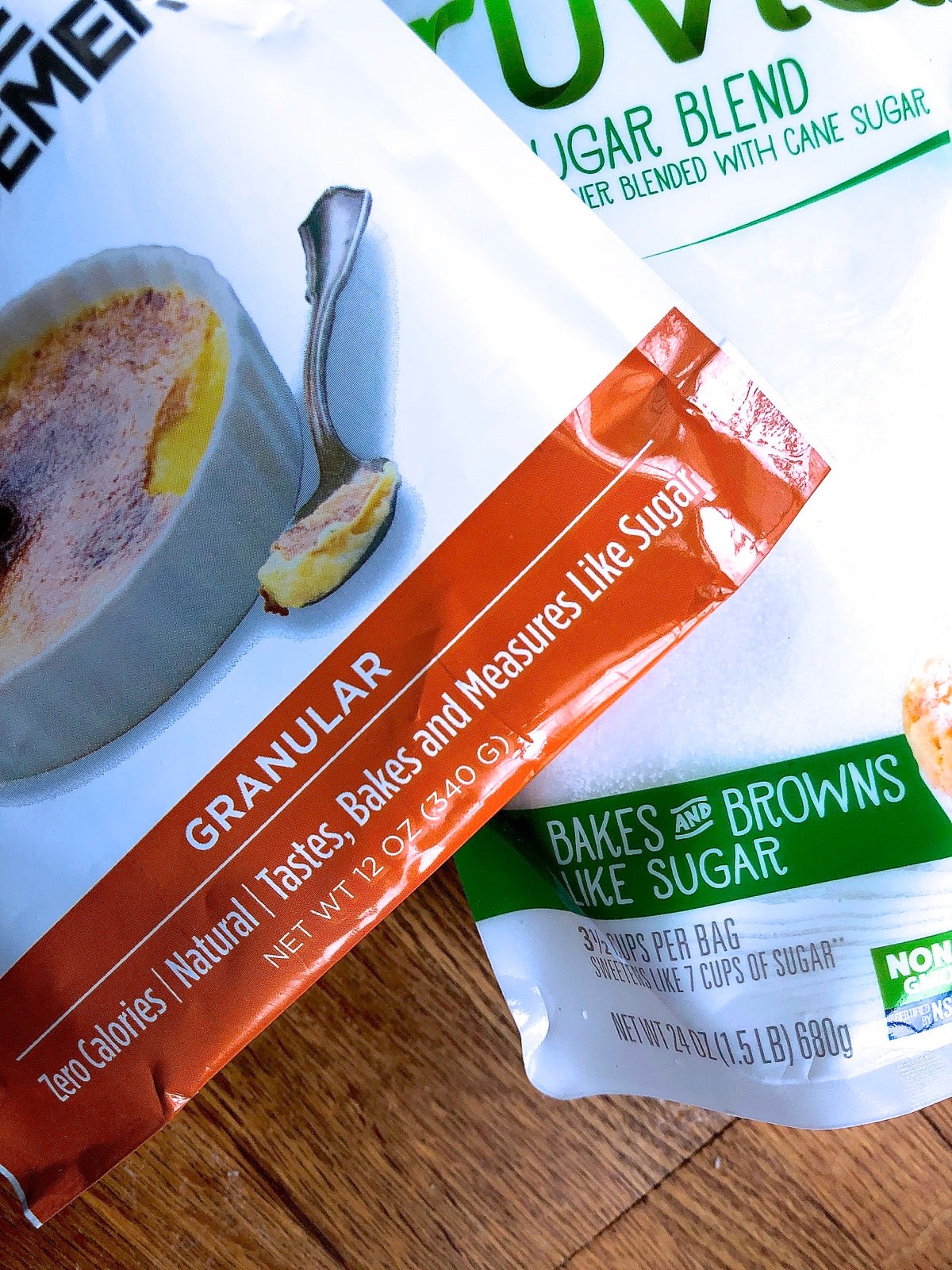 Instead I'm zeroing in on two so-called natural sugar replacements: Swerve® ("Zero calories / Tastes, bakes, and measures like sugar") and Truvia® Cane Sugar Blend ("75% fewer calories per serving than sugar / Bakes and browns like sugar").
Why "so-called natural"? Because the term natural has yet to be officially defined by the FDA, so it's up to each of us to determine and embrace our own definition.
My personal go-to resource is the Whole Foods Market Unacceptable Ingredients for Food list. Sucralose, aspartame, and saccharin are on the Whole Foods "no-no" list; erythritol, the main ingredient in both Swerve and Truvia, is not — and is thus deemed acceptable.
Swerve (erythritol, oligosaccharides, and natural flavors), claims zero net calories. Truvia (erythritol, cane sugar, and stevia leaf extract) notes it has "75% fewer calories per serving than sugar." Could either or both of these sugar replacements be the answer to my lower-calorie baking dreams?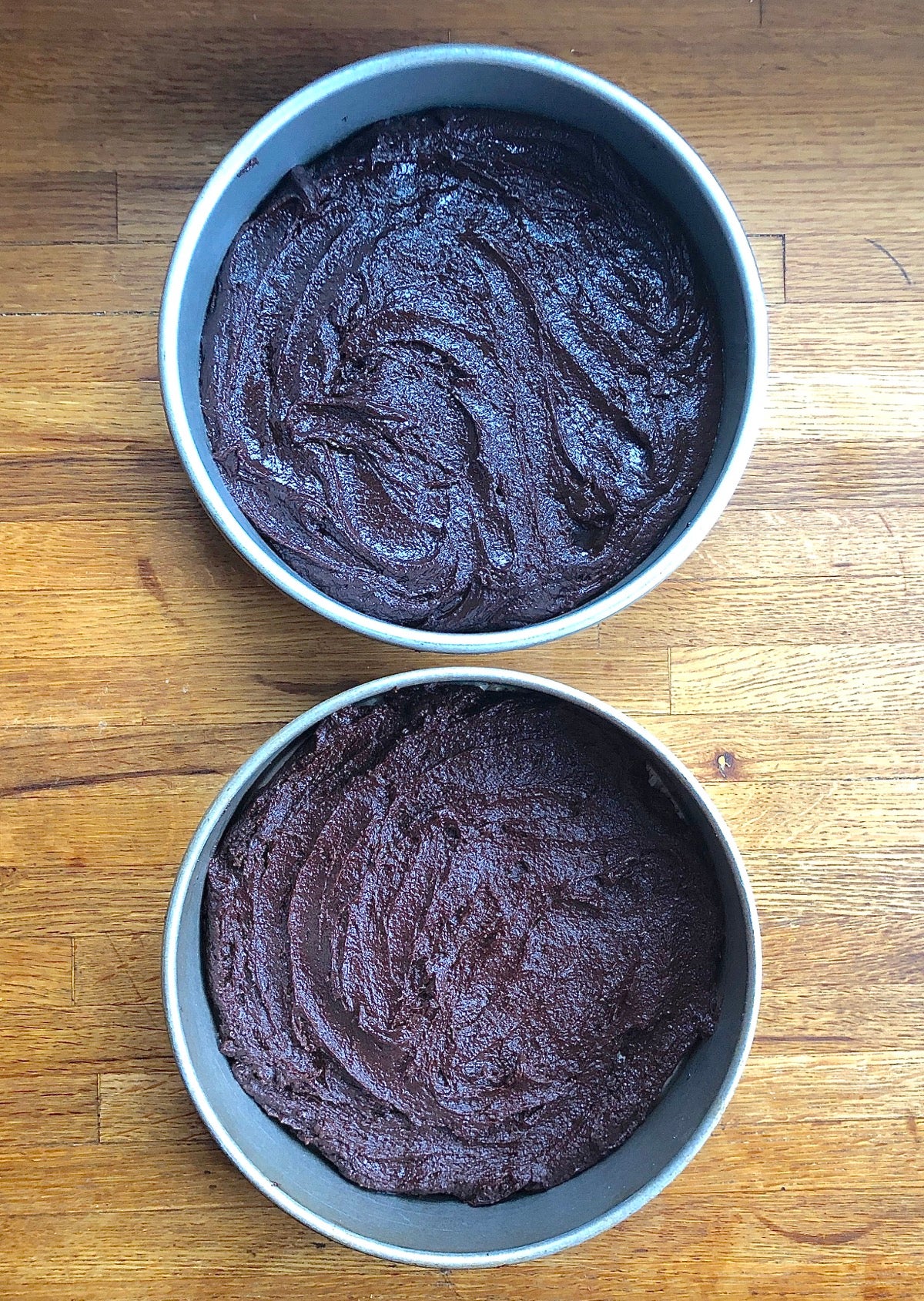 Let's find out. I'll bake four of my favorite recipes using standard granulated sugar, Swerve, and Truvia Cane Sugar Blend, and compare results. The four recipes represent a range of different baked goods, as well as a broad spectrum of baker's percentage of sugar, from scones (whose sugar checks in at just 21% baker's weight) to brownies (289%). What the heck is baker's weight? Read our blog post on baker's percentage for a complete explanation, plus directions for how to use it.
Who doesn't love brownies, right? This simple one-bowl recipe produces reliably delicious chewy, fudgy brownies.
Brownies: Made with granulated sugar
Appearance: Deep-dark brown throughout, semi-shiny smooth top crust
Texture: Chewy and moist, with a thin layer of softer "fudge" in the center
Flavor: Deep, rich dark chocolate
Brownies: Made with Swerve
Appearance: Lighter colored throughout; matte, bumpy surface
Texture: Dry, hard
Flavor: Not quite sweet enough; odd "cool" mouthfeel, like mint without the mint flavor
Brownies: Made with Truvia Cane Sugar Blend
Appearance: Dark brown; matte, mildly speckled surface
Texture: Dry, crumbly
Flavor: Somewhat bitter, as though the sugar couldn't quite overcome the flavor of the unsweetened cocoa
Alternative-sugar brownies: Conclusion
It's not often I'd call a brownie inedible, but that's how I'd have to term the two made with natural sugar replacements. You may be more forgiving, but these just didn't cut it for me.

This is my long-time favorite chocolate chip cookie recipe, and I've made thousands of these over the years; they accompany me to every family gathering and holiday celebration.
Note that these cookies call for both brown sugar and granulated sugar. Since I didn't have the brown sugar version of either Swerve or Truvia, I replicated the brown sugar flavor by adding a teaspoon of molasses to each of the sugar replacement recipes.
Cookies: Made with granulated sugar
Appearance: A thin (but not puddled) 3" cookie, deep golden brown and studded with chips
Texture: Crisp edges, semi-soft center
Flavor: Mild butter and brown sugar, with a major hit of chocolate from the chips (yes, I do up the quantity of chips a bit beyond what the recipe calls for!)
Cookies: Made with Swerve
Appearance: Deep brown, very little spread
Texture: Cakey, dry
Flavor: Pretty good. Again, the "cool" mouthfeel is somewhat unpleasant, but the cookies are sufficiently sweet and the butter, molasses, and chocolate shine
Cookies: Made with Truvia Cane Sugar Blend
Appearance: Golden brown, somewhat speckled, very little spread
Texture: Soft, cakey
Flavor: Good level of sweetness, noticeable butter and brown sugar flavor
Alternative-sugar cookies: Conclusion
If you aren't looking for a typical chocolate chip cookie, one that spreads as it bakes and delivers crispy edges, then the cookies made with sugar replacements are acceptable. More like a dry-ish, crumbly scone in texture, they deliver decent flavor.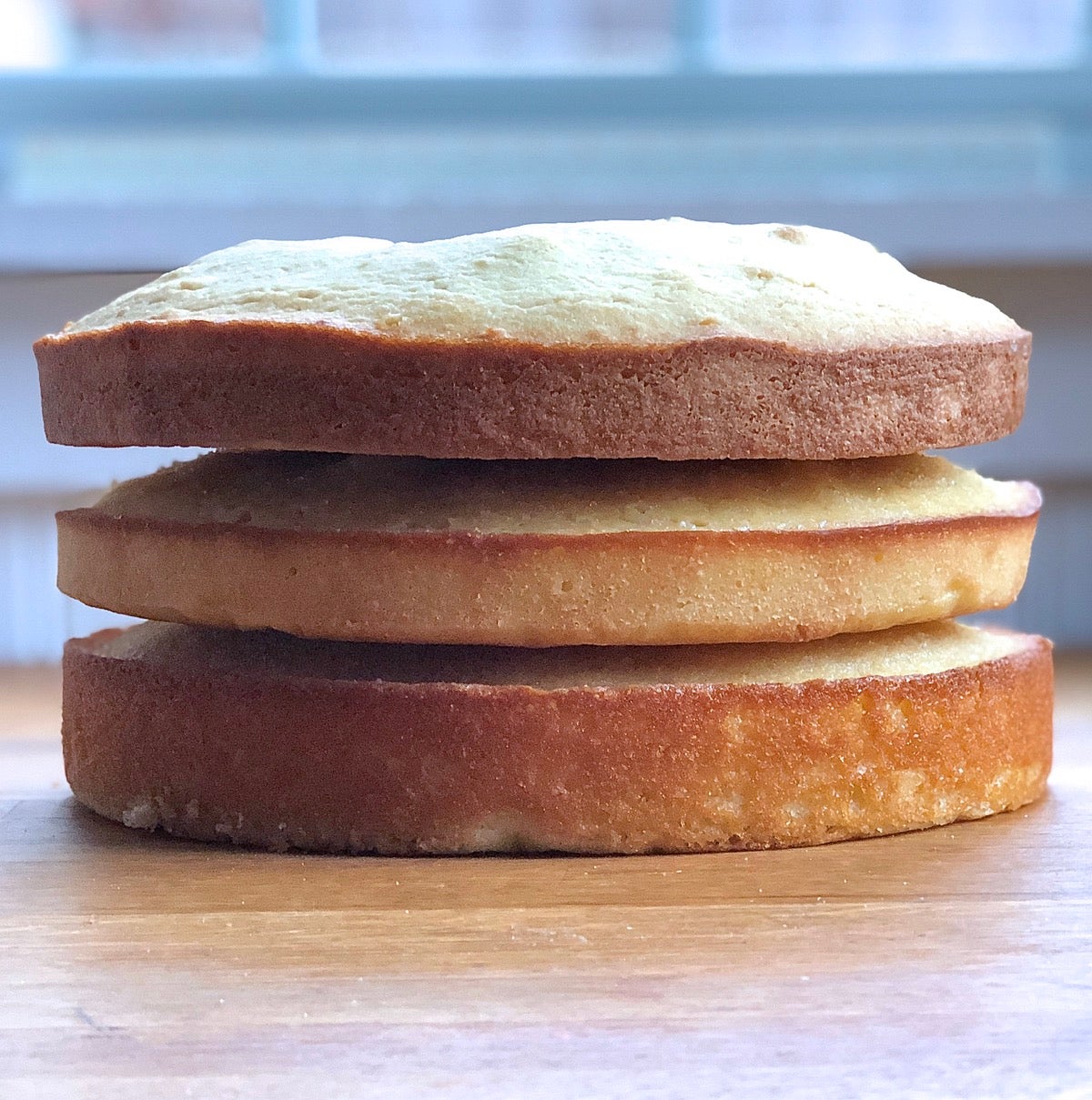 While the recipe calls for this moist, tender cake to be baked in a Bundt pan, it's equally good made into layers. Ultra-flavorful Lemon Bliss is a reader favorite, and our 2017 Recipe of the Year.
Cake: Made with granulated sugar
Appearance: High-rising; golden, shiny top crust
Texture: Soft and tender, medium crumb: slices beautifully
Flavor: Aggressively citrus-y thanks to its lemon "soaker" glaze; wonderfully tart with perfectly balanced sweetness
Cake: Made with Swerve
Appearance: Light-colored, lumpy top crust; dense and squat
Texture: Dry, tough, and a touch rubbery
Flavor: Aside from the odd aftertaste, acceptable, though not quite sweet enough
Cake: Made with Truvia Cane Sugar Blend
Appearance: Light gold, low rise, peaked center, medium-coarse crumb
Texture: Stiff and a bit rubbery, a bit dry
Flavor: Acceptable, though could have been a bit sweeter

Alternative-sugar cake: Conclusion
The sugar replacements yielded cake with acceptable flavor, almost identical to the granulated sugar cake. But the Swerve and Truvia cakes' texture — dense, hard, somewhat dry, unpleasantly rubbery — was a far cry from what we expect in a typical delicious cake.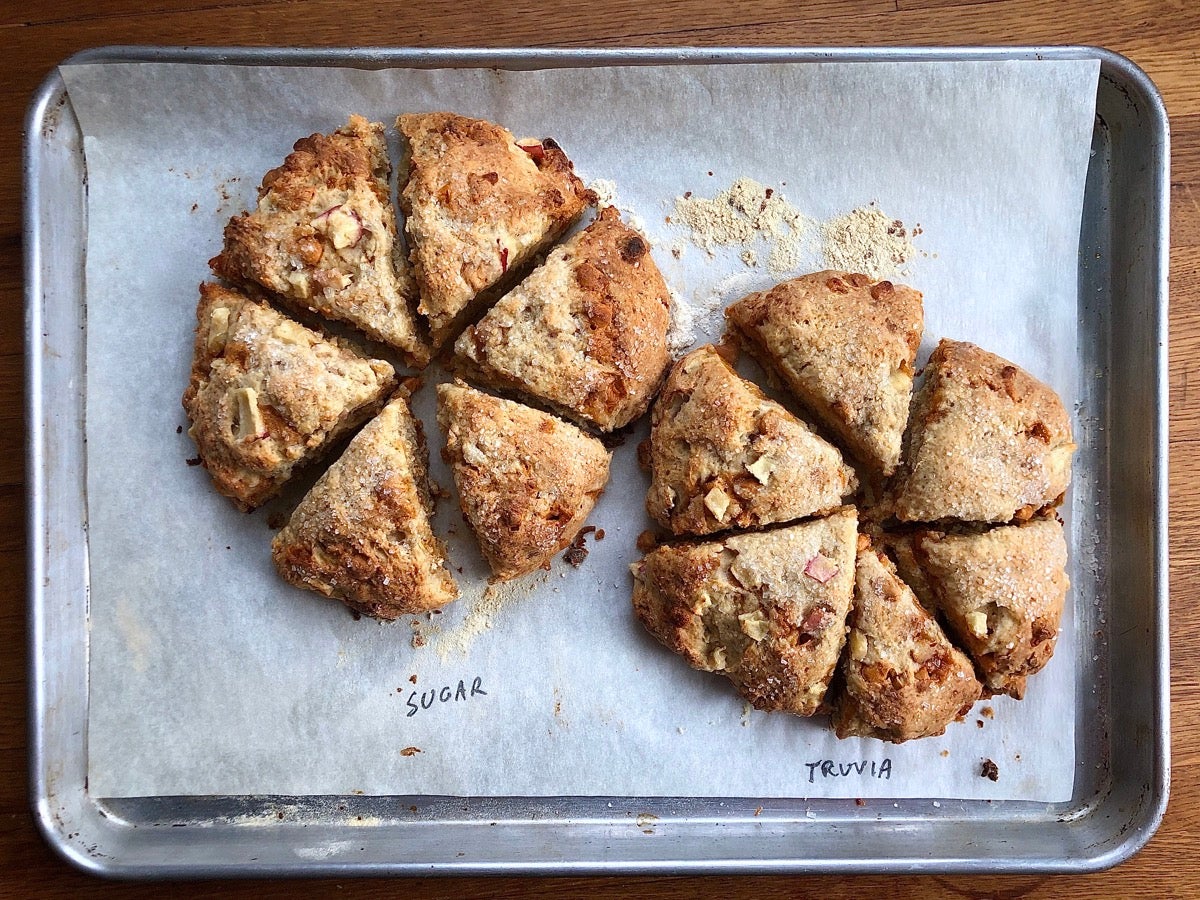 As is typically true with scones, most of the sweetness (and interest) comes from either the jam you add afterwards or the add-ins: chiefly fruit, spices, and chips. These scones feature chopped apple, butterscotch or cinnamon chips, and a significant shower of sparkling sugar on top; the scone dough itself is barely sweet.
Scones: Made with granulated sugar
Appearance: Light golden brown, high-rising
Texture: Sturdy but moist, a bit crumbly when cut
Flavor: The scone itself is mildly buttery; its main flavor comes from apple and chips
Scones: Made with Swerve
Appearance: Medium golden brown, high-rising
Texture: Just a shade drier than granulated sugar scones, but fine overall
Flavor: Nearly identical to granulated sugar scones, with just the slightest "cool" aftertaste
Scones: Made with Truvia Cane Sugar Blend
Appearance: Light golden brown, high-rising
Texture: Nearly identical to granulated sugar scones
Flavor: Predominantly apple, butterscotch, and crunchy sugar (from the sparkling sugar topping)
Alternative-sugar scones: Conclusion
Any of these scones would be fine to serve to your breakfast guests. The sugar replacement scones do have a somewhat shorter shelf life.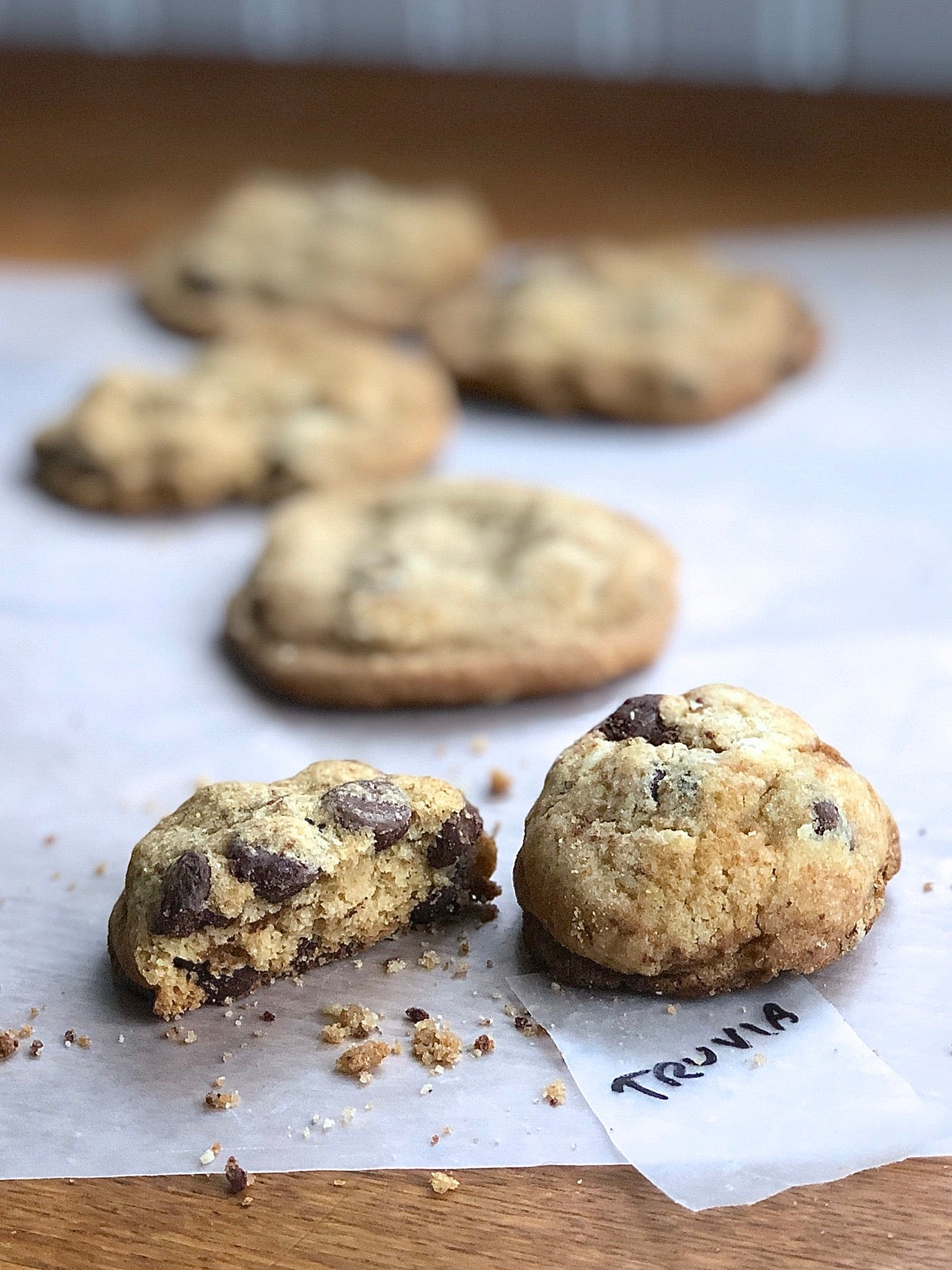 The jury's in: Final conclusions
The selected recipes baked with sugar replacements yielded mixed results. While the baked goods' flavor was OK (generally sweet enough), their "mouthfeel" suffered greatly. The cookies didn't spread; the brownies were hard and dry, and the cake was stiff and rubbery. The scones, since they're quite low in sugar to begin with, offered acceptable texture.
At the end of the day, sugar replacements deliver sweet flavor, but contribute nothing to structure (and therefore texture). Claims on their packaging notwithstanding, neither Swerve nor Truvia Cane Sugar Blend "bake[d] like sugar" in the recipes I tested.
In summary, until something better comes along, I think simply reducing the amount of granulated sugar in your favorite baked goods yields better results than using an alternative sugar.