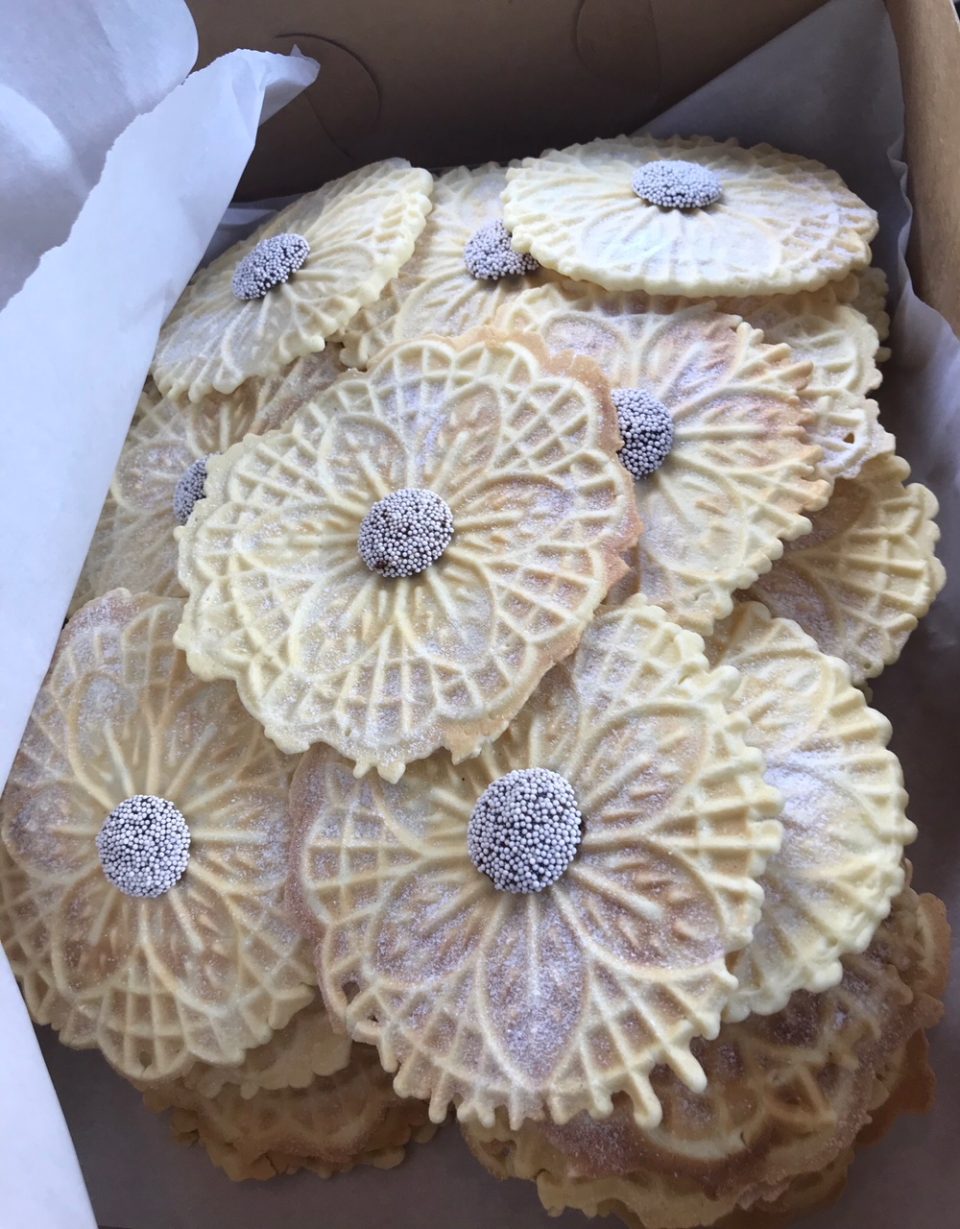 After posting pics to social media, I received a number of recipe requests for the pizzelle I baked for a relative's wedding this past weekend. I always have nonpareils stored in my kitchen, which is how the idea for my recipe was born!
Italian Flower Pizzelle
Ingredients:
3 eggs, room temperature
3/4 cup sugar or dry sugar substitute
1/2 cup butter, melted and cooled
1 tsp pure vanilla extract
1 tsp anise seeds, optional
1 3/4 cup all-purpose flour, sifted OR half all-purpose & half white whole wheat flour, sifted
Garnishes:
chocolate frosting, regular OR sugar-free
chocolate nonpareils, regular OR sugar-free
confectioners' sugar, regular OR sugar-free

Directions:
In large mixing bowl, beat together the eggs and sugar or sugar substitute. Add the cooled butter and vanilla (anise seeds optional). Then add flour. (Mixture will be thick.)
Bake according to the directions of your pizzelle maker and cool on wire racks.
Once cooled, spread a small amount of chocolate frosting on the back of the nonpareils and affix to the centers of the pizzelle. Sprinkle each pizzella with confectioners' sugar.
Note:
White whole wheat flour and sugar substitutes can affect the thickness and crispness of your pizzelle; moisture and humidity can also affect their crispness.
Here are great tips on keeping your pizzelle crisp!
www.livestrong.com/article/521317-how-to-make-pizzelle-crisp-in-high-humidity
Varieties:
You can make various-colored pizzelle with this recipe by using multi-colored doughs, nonpareils and tinted confectioners sugars to match. I used a medium-sized pizzelle iron to bake.
Enjoy!