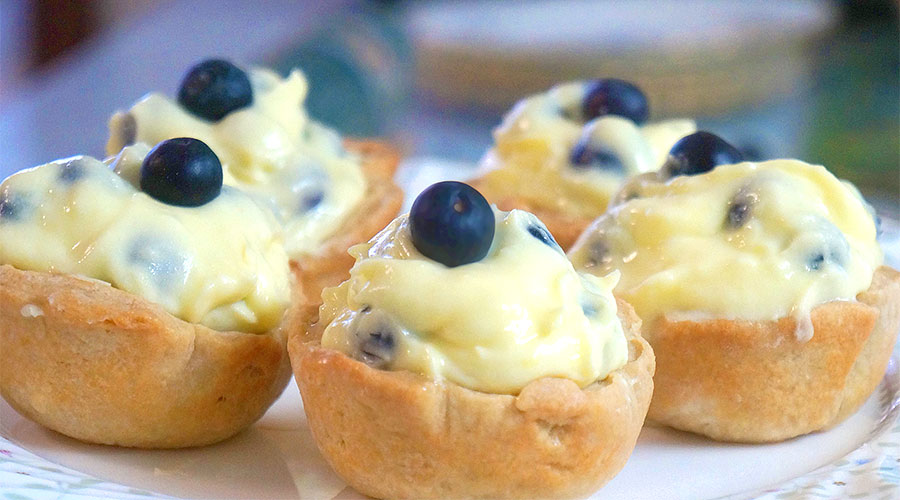 Sugar-Free Lemon-Blueberry Tartlets

Curd Ingredients:

¼ cup freshly squeezed lemon juice
2 tbsp. grated lemon zest
1 pint blueberries, washed
Directions:
Whisk the eggs and Whey Low® Type D Granular until smooth in the top of a double boiler filled with water.  Add the remaining ingredients except for the blueberries and cook over medium heat while whisking continuously. When the mixture resembles slightly whipped cream, remove from heat. Cover and stir frequently while it cools.
Once cool, stir in the blueberries and refrigerate.
Note:

 

Alternatively, after cooling, the curd can be mixed with an equal part of whipped cream before adding blueberries and refrigerating.
Pastry Ingredients:

3 tbsp raw sugar, Whey Low

®

Type D Granular, or equivalent dry sugar substitute, sifted
1 1/3 cup unbleached all-purpose flour
1 cup white whole wheat flour
2/3 cup unsalted butter, chilled and cut into small pieces
2 tbsp. fresh lemon juice
Directions:
Combine dry ingredients in a medium mixing bowl.

 

Cut in butter with pastry cutter until mixture is crumbly like coarse meal.

 

Add lemon juice and water and mix until a small ball can be formed.

 

Gather mixture into a ball and flatten into a disk.

 

Cover and refrigerate for an hour.
Remove dough from refrigerator and roll out on floured board.

 

Cut into 12 5-inch rounds.

 

Line 12 large muffin cups with the dough, prick the bottoms and sides of the dough with the tines of a fork.

 

Bake in preheated 400 degree oven for approximately 15 minutes or until golden. Cool in pan and carefully remove.

Fill each cup with the lemon-blueberry mixture and garnish each with a blueberry.

Yield:

12 servings
| | |
| --- | --- |
| | |
| | |

| | |
| --- | --- |
| | |
| | |

* Percent Daily Values are based on a 2,000 calorie diet. Your daily values may be higher or lower depending on your calorie needs:

Fat 9 • Carbohydrates 4 • Protein 4