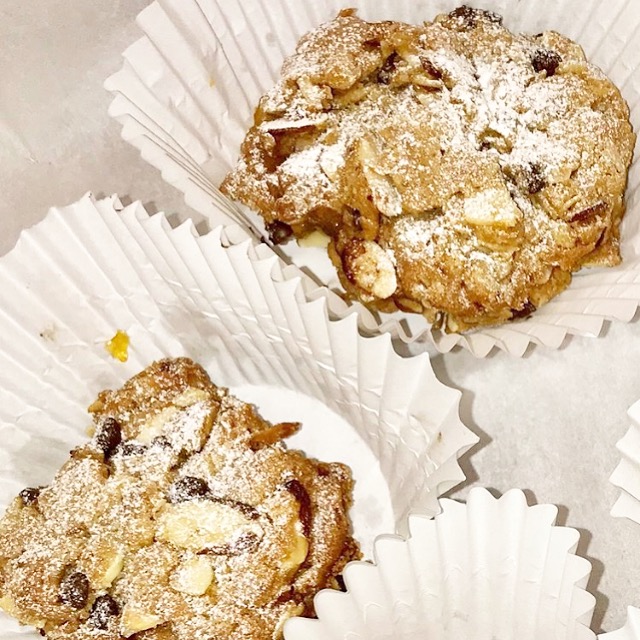 INGREDIENTS
2 c. all-purpose flour
2 tsp. baking powder
1/2 tsp. salt
2/3 c. softened unsalted butter or shortening
1 1/4 c. dry sugar substitute (I use Whey Low® Type D Granular; sold in Whole Foods and online)
1/2 tsp. pure vanilla extract
1/2 tsp pure almond extract
1 large egg
3/4 c. crushed pineapple, drained
1 c. sliced almonds
1/4 c. sugar-free chocolate chips (optional)
1/2 c. minced shredded unsweetened coconut
Swerve® Confectioners, to garnish (optional; located in baking aisle)
DIRECTIONS
Preheat oven to 325 degrees.
In large mixing bowl, combine flour, baking powder and salt; set aside.
In separate bowl, use electric mixer to blend butter or shortening, dry sugar substitute and vanilla and almond extracts.
Beat in egg until mixture is whipped.
Blend in pineapple, sliced almonds, chocolate chips (optional) and the blended flour.
Drop by teaspoonfuls a few inches apart on ungreased baking sheet.
Sprinkle top of cookies with minced coconut.
Bake about 20 minutes or until edges are golden.
Remove baking sheet from oven.; let cookies rest on the sheet for a few minutes, then transfer them to a baking rack to cool.
Dust each cookie with Swerve® Confectioners if you'd like, and enjoy!