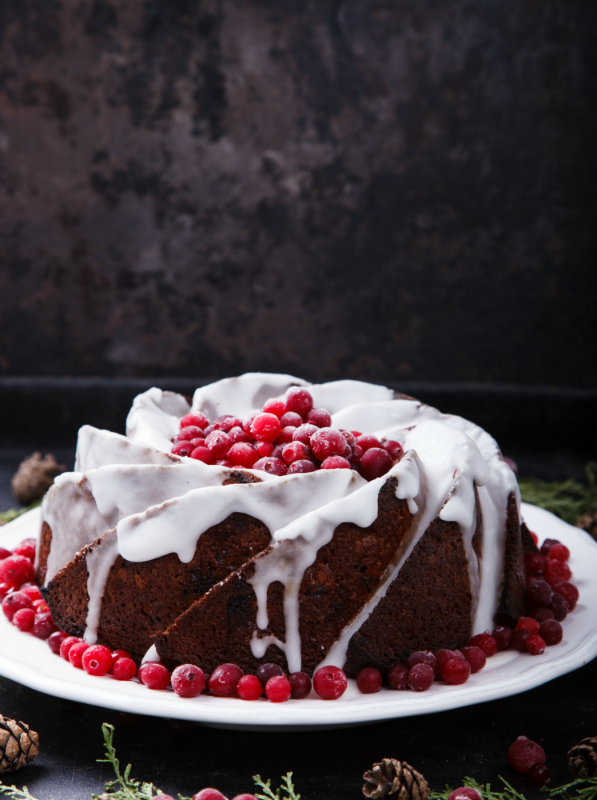 Cake Ingredients:
3 c. all-purpose flour or cake flour blend
3/4 c. unsweetened cocoa powder
1/2 tsp. baking powder
1/2 tsp. salt
1 1/2 c. unsalted butter, softened
2 1/2 c. Whey Low® Type D Granular, or equivalent dry sugar substitute
5 large eggs
1 1/4 c. dairy or almond milk
4 oz. unsweetened chocolate, grated
1 Tbsp. pure vanilla extract
Directions:
Grease and flour 10-inch tube pan. Sift together the dry ingredients. In mixing bowl at medium speed, beat butter until fluffy. Beat in eggs one at a time combining well after each.
Dissolve Whey Low® Type D Granular or equivalent dry sugar substitute in the milk.
Add flour mixture and milk mixture in thirds to the mixing bowl, beginning and ending
with the flour, beating until fully combined after each addition.
Beat in the grated chocolate and vanilla. Pour batter into pan and bake at 350 degrees for approximately 1 hour and 15 minutes. Cool for 10 minutes and invert onto wire rack to cool completely. Glaze and garnish.
Glaze Ingredients:
3/4 cup confectioners' sugar substitute, such as Whey Low® Powder
(or Swerve® Confectioners)
1 1/4 Tbsp. milk
1/8 tsp pure vanilla extract
1/2 tsp butter, melted
Combine all ingredients and mix until creamy.