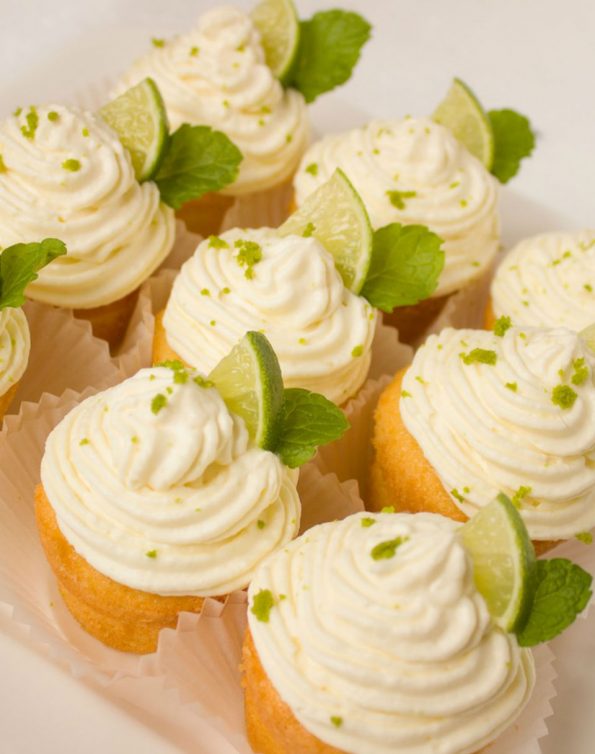 Vanilla Cupcakes Ingredients:
1 1/2 cups all-purpose flour
3/4 cup sugar, Whey Low® Type D Granular, or equivalent dry sugar substitute
1/3 tsp salt
1 Tbsp baking powder
1 stick unsalted butter, softened
2 eggs
1/2 tsp pure vanilla extract
1/2 cup milk or unsweetened almond milk
Directions:
Preheat oven to 325 degrees. Grease muffin tin or use paper liners.
Combine dry ingredients in the bowl of an electric mixer mixing at low speed just until combined. Add butter and mix until the butter coats the flour.
In a separate bowl, whisk together the eggs, milk and vanilla. Turn on the mixer and add
the egg mixture to the dry mixture in 3 parts until combined. Do not overmix.
Divide batter evenly among the muffin tins. filling each 1/2 full. This should make about
16 cupcakes. Let sit 10 minutes before baking. Bake about 17 minutes or until toothpick inserted in middle of cupcakes comes out clean. Cool completely.
Hollow out the center of the cupcakes. Fill with lime curd, pipe frosting, and garnish with lime slices, mint and lime zest.
Lime Curd Ingredients:
3 eggs
1 cup Whey Low® Type D Granular or equivalent dry sugar substitute
1/2 cup fresh lime juice
1/4 cup butter, melted
1 Tbsp lime zest
Directions:
Beat together the eggs and sugar substitute in the top of a double boiler. Stir in juice,
butter and zest. Cook over simmering water 15 minutes or until thickened. Cool.
Whipped Cream Frosting Ingredients:
2 cups heavy whipping cream
6 Tbsp powdered sugar or powdered sugar substitute
1 tsp pure vanilla extract
Directions:
Add ingredients to the bowl of an electric mixer and beat until soft peaks form. Pipe onto cupcakes. This whipped cream recipe is not stabilized, so frost and garnish right before serving.