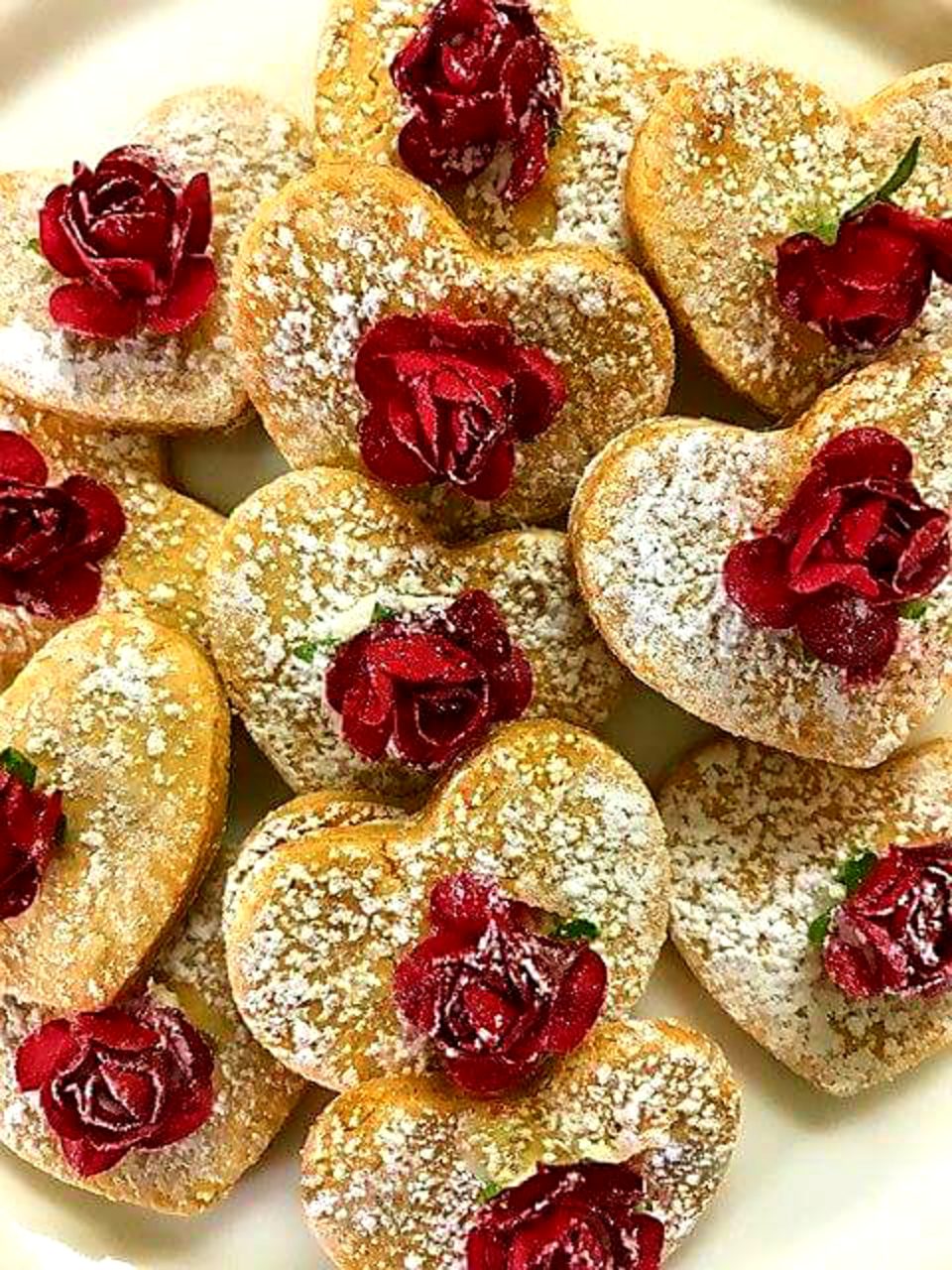 The Diabetic Pastry Chef™ is pleased to be featured on the Divabetic blog again!
This time my recipe will sweeten the Divabetic podcast with a self-love theme—just in time for Valentine's Day—featuring my sugarfree mini rose heart cookies! ?❤
This podcast is part of Diabetes Podcast Week in support of the 'Spare A Rose, Save A Child' campaign. Please join us!
RECIPE: Mini Rose Heart Cookies
Mini Rose Heart Cookies Recipe by The Diabetic Pastry Chef, Stacey Harris
Ingredients:
1 16 oz. box sugar-free yellow cake mix
1 15 oz. tub sugar-free vanilla frosting
Mini edible organic rosebuds
Powdered sugar substitute or powdered sugar, to garnish
Directions:
Prepare cake mix according to box directions; bake and cool.
Crumble the cooled cake with your hands a bit and add to the bowl of a standing mixer. Turn mixer to medium speed to fully crumble the cake; this should take 1 to 2 minutes.
Stop mixer and add frosting one (1) heaping Tablespoon at a time. Turn mixer back on and continue to beat at low speed until well mixed.  Turn off mixer and add another heaping Tablespoon of frosting.
Turn on mixer again and continue to beat at low speed until well mixed. Continue this procedure just until dough holds together—3 or 4 heaping Tablespoons should do. (You may need to add a little more or a little less. You'll know when the dough holds together by turning off the mixer, grabbing the dough and pressing it together with your hands until it forms a cohesive ball.  This is the same method that is used to make cake balls or cake truffles.)
Remove dough from mixer and place on a floured board. With a rolling pin, roll dough out thin, and cut with a mini heart cookie cutter. Place the hearts onto a greased cookie sheet and bake in a preheated 350-degree oven until lightly browned, about 20 minutes or so. Remove cookies from oven and place on a wire rack to cool. (The cookies will harden as they cool.)
Dab a bit of the remaining frosting onto the center of each cooled cookie. Adhere a mini edible organic rosebud to the frosting and let harden. Sprinkle cookies with powdered sugar substitute or powdered sugar. These cookies can also be sandwiched with sugar-free frosting.
Yield: 43 mini sandwich cookies or 86 mini cookies
PODCAST DETAILS:
Link: Blog Talk Radio podcast
Host: Max Szadek
Date & Time: Tues., Feb. 7th from 6:00-7:00pm (Eastern Standard Time)