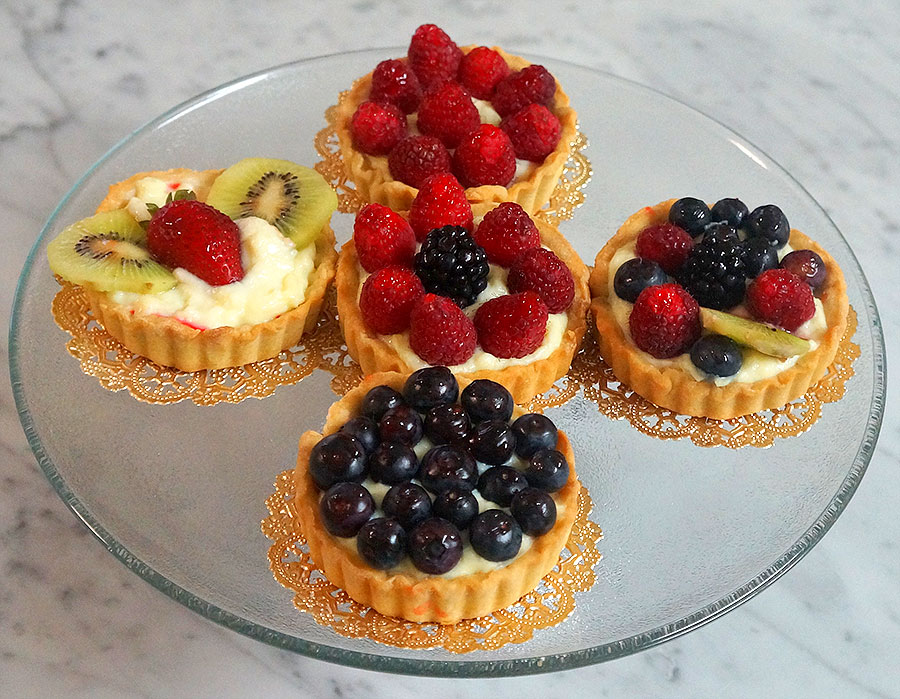 Sugar- Free Fruit Tartlets 
Cookie Crust Ingredients:
1/2 cup butter, softened
1/2 cup Whey Low® Type D Granular, or equivalent dry sugar substitute
2 large eggs
1 cup unbleached all-purpose flour
3/4 cup white whole wheat flour
Directions:
In the bowl of a mixer, beat the butter on medium speed until smooth. Add the sugar substitute and mix until incorporated. Add the eggs one at a time beating until combined after each. Add the flour all at once and mix on low just until incorporated.  Cover and refrigerate for a minimum of 2 hours. Roll out and use fluted 3″ cookie cutter to cut and place in 24 mini muffin cups. Bake in 350 degree preheated oven until golden brown approximately 10 minutes.
Custard Ingredients:
1/3 cup Whey Low® Type D Granular, or equivalent dry sugar substitute
3 Tbsp cornstarch
1/8 tsp salt
2 cups milk
2 egg yolks, slightly beaten
1 Tbsp butter
1 tsp pure vanilla extract
Directions:
In medium saucepan, combine the dry ingredients. Gradually stir in the milk, and cook
over medium heat until the mixture boils and thickens while stirring constantly. Boil for
1 minute.  In small bowl, blend approximately 1/3 of the hot mixture into the egg yolks. Return the yolk mixture to the hot mixture and blend well. Cook the mixture until it bubbles, stirring constantly.  Remove from heat and add the butter and vanilla. Cool. Fill each muffin cup about half way with the cooled custard and add topping. Fruits can be brushed with a little heated currant jelly if you would like them to appear glossy. Refrigerate until serving time.
Toppings: 
Various fruits and berries such as: Blueberries, raspberries, strawberries, kiwis,
sliced almonds, confectioners' sugar or substitute for dusting and/or mint leaves
for garnishing