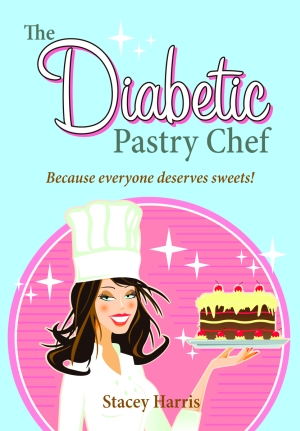 "In The Diabetic Pastry Chef, Stacey Harris proves what I have been saying for years.  You can prepare and eat wonderful food and still stay well within the guidelines of food for a person with diabetes."
––Alan L. Rubin, M.D., author of Diabetes for Dummies
and Diabetes Cookbook for Dummies
My cookbook (diabetic baking book) has been released by my publisher, Pelican Publishing Company, and is now in bookstores nationwide, including via online booksellers.
However, not every bookstore has my book on their shelves. In order to not have to special-order it from your bookstore (which is time-consuming), please kindly request your store to generously stock it. Thank you!
With Nutritional Information readily listed for each and every recipe, The Diabetic Pastry Chef cookbook features close to 200 recipes that range from down-home classics (Sourdough Biscuits, Cinnamon Pancakes, Banana Bread, Sweet Potato Pie, Red Velvet Cake, Gingerbread-Jam Muffins, Coconut Custard, Marbled American Brownies and beyond) to international (Flan, Pavlova, Tres Leches Cake, creamy Italian Love Cake, Nutella® Cupcakes, Pandan Chiffon Cake, etc.) to the more sophisticated (French Pears, Apricot Mousse, Madeleines, luscious Crème Brûlée, Earl Grey Bundt Cake with Chocolate Sauce, flaky Coconut Scones, Amaretto Cheesecake, Rose Petal Cake, Chocolate Truffle Cookies and more).  Treats for everyone!
Order SIGNED COPY by me, the author: The Diabetic Pastry Chef SHOP
The cookbook can be ordered online at many venues, including via my PUBLISHER: Pelican Publishing Company.
It is now available to order also as an eBook!
It can also be ordered online via Amazon as well as other standard and niche online book outlets. The book is also available in Canada, including via Amazon's Canada site as well as worldwide.
The Diabetic Pastry Chef book is a thoughtful and "tasteful" gift. Your loved ones will love it!