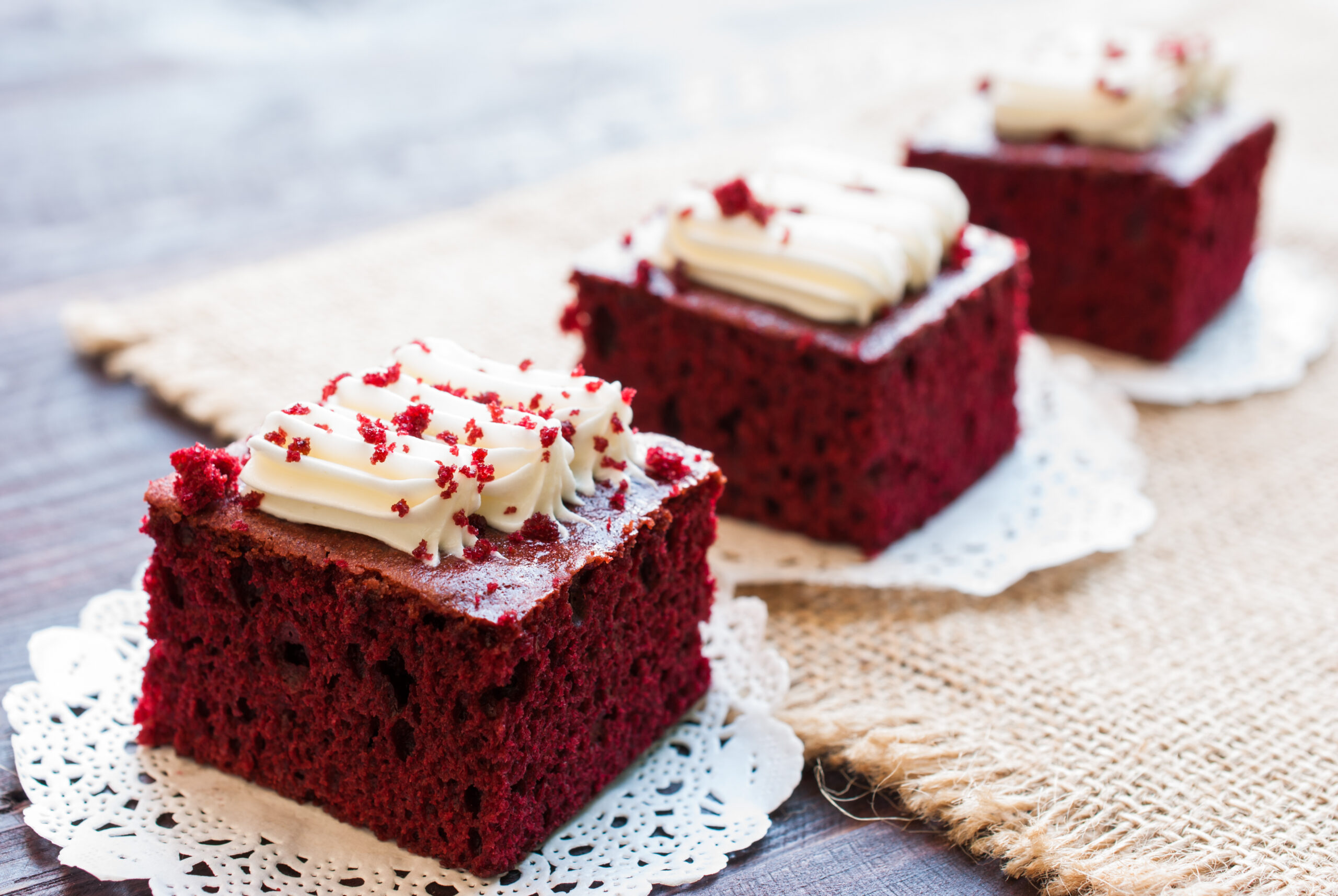 HomeD-StoriesSugar-Free Red Velvet Cake Squares Recipe by The Diabetic Pastry Chef
Sugar-Free Red Velvet Cake Squares Recipe by The Diabetic Pastry Chef
This article was taken from the divabetic.org website.
Mr. Divabetic 05/29/2023 D-Stories, Diva TalkRadio, Education, Food and Nutrition, Recipes, Uncategorized
Today, Red Velvet cake, cupcakes, and cookies seem everywhere. But do you ever wonder where the recipe comes from?
My research found that a popular cookbook, The Joy of Cooking, debuted a red velvet cake in 1943. Irma S Rombauer, the cookbook author, shared the recipe but admitted in the text that she doesn't care for the cake!
However, many researchers argue that red velvet cake predates the cookbook. They believe red velvet cakes were first served during the Victorian Era. Cocoa was used to help break down the coarse flour. As a result, the flour was softer, and the cake was described as velvety. Some argue that the chemical reaction between the cocoa and acid gives the cake its red color. The velvety texture and scarlet coloring led to the creation of Red Velvet Cakes. But the traditional recipe was changed due to WWII food rations. Bakers scrambled for alternative ingredients to use in their recipes. As a result, some bakers chose to use beet juice in their cakes. Beets work as a filler that keeps the cake moist.
I'd also like to add my two cents about the origins of Red Velvet Cake. My research points to Red Velvet Cake having African American origins. The enslaved people believed that the red color represented Christ's blood and that the cocoa powder would bring them good luck.
Below, our friend, Stacey Harris, known as The Diabetic Pastry Chef, shares her sugar-free version of a Red Velvet Cake. One of Stacey's surefire secrets to successfully substituting artificial sweeteners in your recipes is using more than one kind. Using two types of artificial sugar substitutes tends to eliminate any bitter aftertaste.
Sugar-Free Red Velvet Cake Squares Recipe by The Diabetic Pastry Chef
Ingredients
1 cup all-purpose flour
1 cup white whole-wheat flour
1 tsp baking powder
1 tsp baking soda
3/4 tsp salt
2 Tbsp. cocoa powder
2 cups sugar-substitute of your choice
3/4 cup vegetable oil
2 eggs
1 cup buttermilk
2 tsp pure vanilla extract
2 tsps. red food coloring
1 tsp vinegar
1/2 cup hot coffee
Ingredients
1 cup all-purpose flour
Directions
Combine all dry ingredients in a large bowl; set aside.
In the bowl with an electric mixer, combine sugar-substitute and vegetable oil. Add in the rest of the wet ingredients and mix well.
Add dry ingredients in thirds to wet ingredients, mixing just until combined.
Preheat oven to 350 degrees. Add batter to greased and floured 9×13″ pan. Bake for about 30 to 40 minutes, or until the cake pulls away from the sides of the pan and the center springs back when touched.
After cooling, sprinkle top with sugar-free confectioners sugar such as Swerve Confectioners. Serve cake cut into squares topped with whipped cream or whipped topping.
Although red velvet cake is generally linked with Valentine's Day, it is also served at Juneteenth parties. For Juneteenth celebrations, the color red represents the struggle and bloodshed of the enslaved as well as the ultimate resilience of the people.
Share this:
LEAVE A REPLY